Berkåk, 26. mai 2013
Dommer: Jochen H. Eberhardt, Tyskland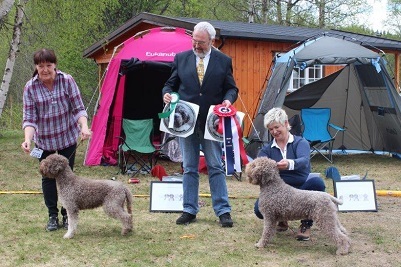 Junior – hanner
Baltus – VG 2.JKK
Scheffelfältets Ipporico Per Eli – VG 3.JKK
Praxtar's Emilio Ragazzo – Exc 1.JKK CK Res. CERT 3.BHK
Praxtar's Emilio – Exc JK 1.JKK CK
Bravo Bravissimos Chanti Classico – VG 4.JKK
Willa Lavollen's Isak – IM
Unghund – hanner
Skjervtorpet's Filippo – G
Staurin's Felitas Beethoven – VG
Chicabeams Rigoletto – Exc 1.UKK CK
Chicabeams Quentino – Exc 2.UKK CK
Nostryffelns Ottimo Omaggio – VG 4.UKK
Peppiono Del Monte Della Dea – VG 3.UKK
Champion – hanner
Praxtar's Chico Federici – Exc 1.CHKK CK 1.BHK BIR
Imperie's Imax Importante – Exc 2.CHKK CK CERT 2.BHK
Risberget's Tre-Due Tomba – VG
Willa Lavollen's Nostro Salto X – Exc 3.CHKK CK
Lapinlumon Hesperus – Exc 4.CHKK
Allis Kalle Lavollen Av Nr 35 – VG
Veteran – hanner
Toshiko's Tru-Pri Durc Liten Skurk – Exc 1.VTK CK 4.BHK
Junior – tisper
Praxtar's Estell Cubana – Exc 1.JKK
Bella Verona Chantrel Gorska Fantaz – Exc 2.JKK
Unghund – tisper
Fedora Dei Boschi D'oro – IM
Skjervtorpet's Fakira – IM
Åpenklasse – tisper
Hopeanuolen Ermione – Exc 1.AKK
Fireblaze L'ambra Dal Nord – VG 2.AKK
Cymone – VG 3.AKK
Champion – tisper
Chicabeams Foccaccia – Exc 1.CHKK CK 1.BTK BIM
Lizas Illy Av Nr 35 – VG 4.CHKK
Praxtar's Chupa Cubana – Exc 2.CHKK
Riccias Incantevole-Idea – VG
Riccias Felice Figlia – G
Riccias Hilaria-Hermosa – Exc 3.CHKK
Veteran – tisper
Punatassun Allegra Farnie – Exc 1.VTKK CK 2.BTK
Lägden's Chocolatemint – Exc 2.VTKK
Valper
4 – 6 måneder – hanner
Skjervtorpet's Grom – 1 2.BHK
6 – 9 måneder – hanner
Riccias K-Capace Capo – 1 1.BHK BIR
4 – 6 måneder – tisper
Rowntree Panazza – 2
Olivia Delle Terre Di Guà – 1 1.BTK BIM
Chicabeams Vanessa – 3
6 – 9 måneder – tisper
Il Graneio Dei Malatesta Zaira – 2
Riccias K-Capace Camomille – 1 2.BTK
Dommerens betraktninger
Rennebu May 26th, 2013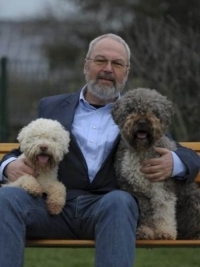 I appreciated very much that you gave me the opportunity to see your Lagotti – I had always enjoyed Norway (it was my 16th appointment in your country since 1995). You were great hosts and organized everything perfectly. You gave me a superb ring team to guide me through the day. Again I felt spoilt and privileged.
The Lagotto Romagnolo breed is cultural heritage and has to be preserved in exactly the form as it was given to us.  The breed standard is a very good one and allows everybody to make comparisons.
I my eyes breed type in the LR am governed by format (square), its unique coat and its temperament.
Format is apparently the biggest problem, many dogs shown were too low to ground, and thus they cannot be square as the standard demands. If the LR is not square his profile will not be typical. The exhibit coming closest to my expectations in this field was the best junior male.  Especially as there are apparently too few bitches with the correct format you will have to be very selective with breeding partners.
Coats: there were only a few coats I really liked and recommended to all of you to feel them so you have an objective to breed for. These were the second best male (brown) and the best junior bitch (white). Coat quality is highly heritable,  thus only using LR with superb coats could result in good progress. Whereas I saw many tiny curls, only few of them were proper ring curls, let alone that these were found all over the dog. Most coats were sparse and lacked the wooly grip the standard calls for. You are living in a country with long and cold winters, thus what you see would probably is the best your LR's genetics allow.  What I, however, liked was that you left (a bit) more coat on your dogs than I recall having seen before.  All of them were clean and happy; this is also a courtesy towards the judge. If the coat is the escutcheon of the breed, there should be enough on a Lagotto to recognize it!
Temperament: I was glad that the conduct of one dog only was suspicious. But as the dog was tightly controlled by his owner,
I could not complain and reflect it in the classification. Be, however, cautious which breeding partners you use! If there is even the slightest doubt, keep your fingers off!! In my eyes temperament is the most important factor in a family member and weighs far heavier than sheer beauty.
I still hold that your country as well as ours still has to make clever use of the breeding stock wherever it lives – we all will have to go across borders to improve our overall quality. This does not necessarily mean that we have to import a lot, but to travel to the best breeding partners will pay in the end.
What I liked best at the show –apart from the beautiful weather and the picturesque spot you had picked for the show- was the good spirit all exhibitors showed.
You tolerated my sometimes juicy comments well and thus made my day.
Thank you again!
Jochen H. Eberhardt